Join 19,068 Happy Learners
A fundamental guide to marketing strategy
Welcome to Marketing Strategy, a collaboration between WARC and Cannes Lions.
This course will examine the insights and methods behind successful marketing strategies and equip you with the necessary practical skills as well as templates to help you plan, execute and measure your own campaigns.
You will learn the fundamental practical methods covering everything from the research phase, to objectives, KPIs, customer journeys, to briefing and evaluation.
The best news is you'll be learning from some of the industries best strategic leaders as well as getting exclusive inspiration from Cannes Lions award winning case studies and research papers from the WARC archive.
Best of all this course is designed to be enjoyable and jargon free, so everything is in plain English,no prior experience required, upon passing you'll get a WARC / Cannes Lions certification in Marketing Strategy.
How does it work?
Who is this for?
Anyone wanting to get into a marketing strategy role
Marketers and creatives who want a better understanding of the world of strategy
CEO's or Founders, or owners of companies looking to understand strategy to help grow their business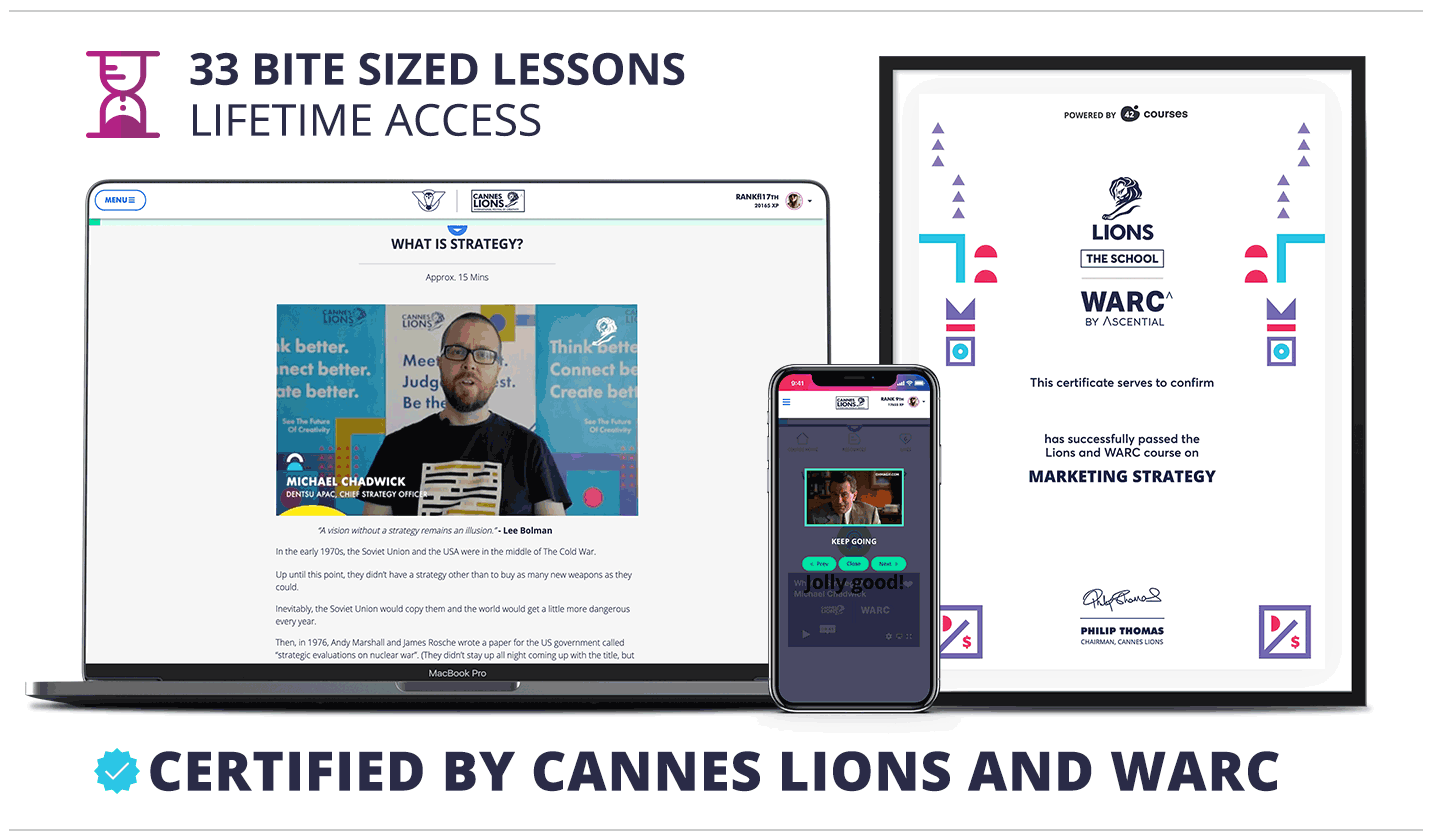 Simple, Transparent Pricing
(Price per person)
Pay by Course
Lifetime access to this course
Lifetime access for a
single course.
All Courses (Monthly)
All Courses
(Monthly)
Access to all courses. Paid monthly.
Access to all courses.
Paid monthly.
All Courses (Yearly)
Save 30%
Access to all courses. Paid yearly.
Access to all courses.
Paid yearly.
All Courses (Monthly)
All Courses
(Monthly)
Access to all courses. Paid monthly.
Access to all courses.
Paid monthly.
All Courses (Yearly)
Save 30%
Access to all courses. Paid yearly.
Access to all courses.
Paid yearly.
Pay by Course
Lifetime access to this course
Lifetime access for a
single course.
We offer packages for teams and corporate
More info
Chapters
Understand what marketing strategy is, how it works, why it's important and what you'll be getting up to in this course.
Here we show you how to do the research so you can find the right answers and insights for your brand.
Here we'll show you how to work out and set the right KPIs and objectives for your marketing.
A simple guide so you can create and use customer journey maps to better plan your path to success.
Learn how to make great briefs and work with different teams smoothly to give your strategy the best chance of victory.
What does success look like? How to define it? What are the different ways to measure it?
A look at the skills you need to develop in the long-term so you can become a strategic genius.
EARN CERTIFICATIONS FROM LEADING BRANDS
COLLECT BADGES FOR BEING SMART
REAL TIME MARKING ON LESSONS
CLIMB THE INTERNATIONAL LEADERBOARD
Lucas F.
Argentina
Learning here is like ending a series that you love, you feel empty when is over.
Magnus H.
Germany
So glad I signed up! The variety of techniques to test your understanding is great and the team behind the scenes even better.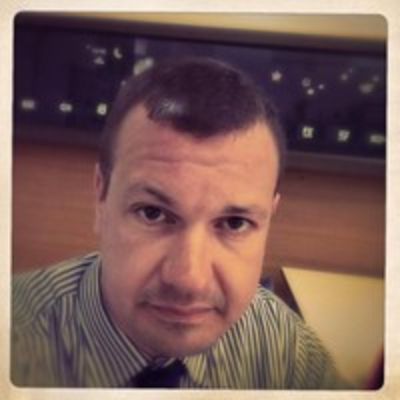 Ian H.
United Kingdom of Great Britain and Northern Ireland
42courses helped me land a plum job as a copywriter! So I love you all for life!
Nicola R.
South Africa
Fantastically interesting, diverse and ultimately engaging, perfect for the curious.
Andra N.
United States of America
Impeccable learning experience. The material is carefully curated and extremely engaging.
Where our students work
Alumni companies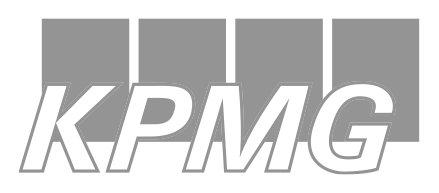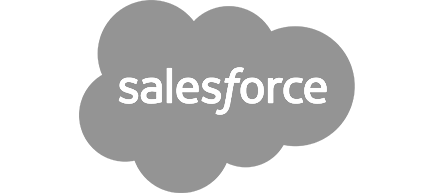 Special features
Get opinions from peers world-wide
Use any device, any time
Enjoyment guaranteed or your money back
24/7 support - ask us anything, any time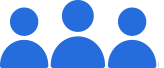 Get access for your team today
Quickly and easily add learners, track team progress and save time upskilling people.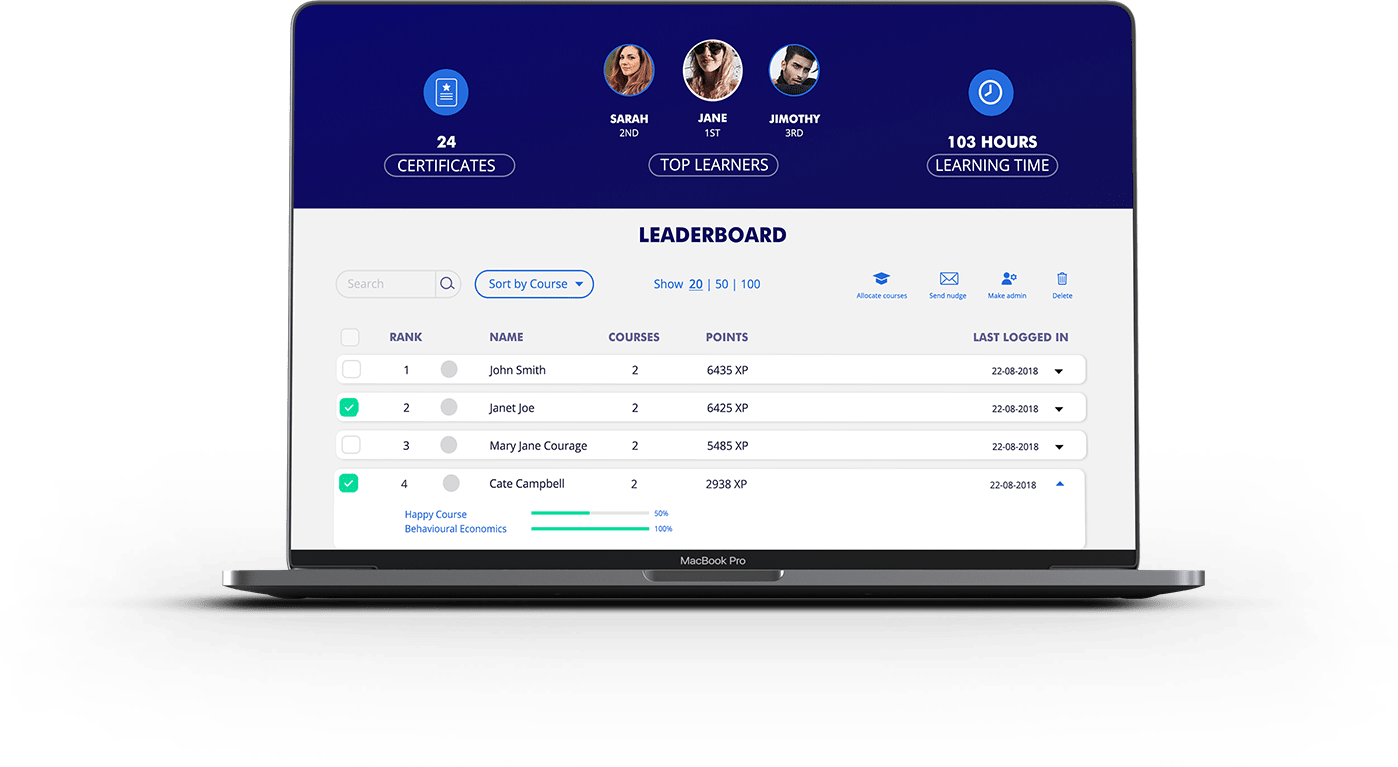 What people are saying
Aaron B.
United States of America
Marketing Strategy pulled the Chief Strategy Officers of the leading Agencies globally and developed a BRILLIANT curriculum for beginners and advanced strategist to learn from.
Jan M.
Czech Republic
Great Marketing strategy 101 course - everything you need to know to start your carrier as a strategist. This was an amazing course. One of the best courses on your website. It is full of interesting case studies and it is also well structured.
Ellyne P.
Singapore
I love how easy it was to understand!
Stephen B.
United Kingdom of Great Britain and Northern Ireland
On the whole, the course is good, I spotted a few typos and ambiguities which I communicated to the team and now seem to be fixed. As a learning platform, you are closer to perfect than you think. My daughter's Nec GCSE courses are a nightmare in comparison.
Dave D.
South Africa
Really enjoyed this course. Not quite what I expected but in a good way. Good mix of case studies, videos and helpful other stuff.
Monil N.
India
Enjoyed the course. Liked the case studies, would be nice if you did live classes.
Nick C.
Germany
Helpful course if you want to learn more about the subject. It's not intimidating too which is great for those worried it might be. Some great marketing examples in there to learn from.
Magnus H.
Germany
A helpful guide for those new to the world of strategy, the case studies alone are invaluable and the extra resources and templates were helpful too.
Giovanna R.
Italy
very useful and inspiring
David S.
Germany
Good overview and often good further reading material
Aiden C.
Ireland
I originally signed up for this course as a refresher, however, the quality and content delivered profoundly more than I had anticipated. it's challenged my thinking and given me a more effective framework to make better strategic decisions, I'm hooked.
Julie B.
Canada
Thank you 🙏🏻 great insights and a great refresher course
Sergio C.
Bolivia (Plurinational State of)
Interesting content. Could be even better with more practical exercises and peers reviews.
Chris B.
Switzerland
I found it too be too light on actionable details. While I understand that nature of MKT strategy is that it's designed to be high level thinking and that the course left me wanting more examples to work through or challenging practice cases where the answer isn't so clear (everyone is familiar with Nike, but doing the same exercise for a less well known company would have helped clarify the thinking process you need).
Johanna A.
United Kingdom of Great Britain and Northern Ireland
Great course. Loads of interesting case studies and helpful links. Have enjoyed some of the other courses and this one was similarly good.
Verity A.
United Kingdom of Great Britain and Northern Ireland
Great for marketers like me who would like more experience with the stragegy side over the creative side. Love the resources and videos along the way. The test questions also really make you think - I enjoyed filling in a mock brief! Really interesting course
Christine N.
Malaysia
It's a good fundamental course for those who want to know more about the necessary groundwork for an overall marketing strategy.
Bren B.
Germany
The course was informative, interesting and engaging - what more can you ask for? The course materials are written with great attention-to-detail as there are no typos, questionable grammar or even spacing errors. This may seem like a strange point, but if you pay so much attention to this area, imagine how caring the course creators were when it came to the actual syllabus and content. The summary materials emailed after completion was a really nice touch - they are just an example of the entirely pleasant experience of everything to do with 42 Courses. Highly recommended.
Mojobrands L.
Portugal
This course is extremely complete as it shares all points of marketing strategy, step by step. All examples help us understand every move that needs to be made. I feel extremely confident I would be able to develop a project with all the tools provided by this project
Balazs C.
Hungary
you will get a comprehensive overview on marketing strategy with some really interesting case-studies
Moyosoreoluwa A.
Nigeria
Fantastic
Olya G.
Ukraine
Amazing course!
Alejandra L.
Mexico
The examples used to explain each segment are simply brilliant. Loved this course!
Vassilena V.
Bulgaria
Amazing course! Special thanks to 42 courses for this opportunity to pass this courses and develop my skills in the marketing field.
Chris S.
Australia
This course is a must for anyone wanting a better understanding into marketing strategy. I've done other courses on marketing strategy that were way longer, with less crucial information. Do yourself a favour, do the course.
Chloe M.
United Kingdom of Great Britain and Northern Ireland
The course is a great introduction to marketing strategy and gives you an understanding of what is entailed in the role.
Nara C.
United Kingdom of Great Britain and Northern Ireland
Well structured, logical, insightful. And fun!
Aleš K.
Czech Republic
Great course to provide an overview of marketing strategy.
Alberto S.
Italy
If you work in marketing, this course will help to organize your job and to potentiate your skills
Jair G.
Mexico
Really loved the course, all the resources and cases are very interesting. I also loved the way they encourage you to apply everything seen in the course.
julian c.
United States of America
I found the course topic valuable but the content sloppily put together. I signed up / paid hoping to have definitive and well organized direction. All too often there's links to articles all over the internet - why would I pay for that? For customer journey there was a post to a McKinsey article from 2009 talking about the emerging nature of the internet. When it came to collaboration during implementation, there's links to articles about strategic brand partnerships - not helpful when talking about the nuances of inter-agency partnership. In addition, it seemed each chapter was written by someone different and no one coordinated the chapters - the information on customer journey jumped back and forth with no definitive advice on the best place to start creating it. Some of the content was actually good, but other content was 'google-search-generic'. Talking about CX, I went through your site, thought you're affiliated with warc, and expected premium quality based on the strength of that brand and some of the names I recognized; however the delivery was a let down based on my expectations. It felt like you could have created something of quality, but instead, Im afraid to say, it felt really lazy. Either change the description to be an entry level intro for people outside the industry, or fulfill the quality that this course could provide. Hope that helps.
Charlotte E.
United Kingdom of Great Britain and Northern Ireland
Very insightful and incredibly useful across all disciplines of Marketing
Rawan H.
United Arab Emirates
Absolutely leveled me up. This course has a plethora of information that makes you feel like you can be a CMO after it! Loved every second of it.
Thomas R.
Ireland
This course has been a real inspiration. Well presented from the start, the course comes with many helpful chapters and case studies that guide you towards best practise in marketing strategy. The course materials are rich in detail and worth revisiting again and again.
Alexia C.
United States of America
Great course!
Frank C.
Venezuela (Bolivarian Republic of)
Just great!
Jose M.
Mexico
As a creative, If you are interested in upping your game, this is a very good way to do it.
Daniel W.
Germany
This course is great for very first beginners but for advanced too, as it reflects a remarkable view on this topic. Very nice, snackable and it really helped me to understand how to make my daily business a bit better. Totally recommend it.
Lee C.
United States of America
I thought the materials in this were relevant, up to date, and it was a good overview of marketing strategy. Really made me think in areas.
Craig H.
United Kingdom of Great Britain and Northern Ireland
This course whilst is focussed on Marketing can easily be transposed to other business strategies. The blend of videos and written material helps to guide you through something which people feel is a complex and challenging topic.
Morolayo W.
Nigeria
Very educational and insightful. I learnt a lot especially because of the case studies. I also enjoyed the discussions.
Tom C.
China
8 out of 10, well organized, compelling examples and comprehensive knowledges.
Shadi A.
Palestine, State of
Great course! Simple, short and straight to the point.
Saritha I.
India
I loved this course and I got to use them into practice as well
Mariano A.
Mexico
Good course withe the basics of MKT Strategy. I liked the way it simplifies concepts and the resources are great to understand the topics or kind of seeing them in practice.
Anna K.
Netherlands
I really enjoyed the course. Perfectly bite-sized, easily digestible chapters were a great refresher of the main subjects around Marketing Strategy. A top selection of case studies for each topic gave really good industry insights.
Maha M.
Saudi Arabia
It was an amazing an fun course that i learned from and enjoyed as well
Micaela B.
France
Although a few chapters may have been foggy in terms of expressing ideas, overall the courses are short and straight to the point. If some points need to be developped, the case studies are great extra resources which is fitting for people who learn better through practice or visual experience like I do.
Karina P.
Russian Federation
Great number of cases and templates, which can easily be taken into work!
Starley S.
United States of America
Every Creative person should take this course because it will help them to understand the process behind the brief and the why of everything their team is asking for.
Judah J.
Nigeria
If you have any questions concerning advertising, psychology and marketing, this is the right academy for you! Very informative, helpful and challenging
Diya M.
India
excellent course!
Silvi S.
Estonia
Oh wow, I can't believe I made it out alive. Only 2 lives left. This course was heavier than the others I have gone through, so far - which means it has some useful information packed inside I have not come across in other places, before. This is a very serious, good course! Anyone in any kind of business WILL benefit from knowing what's being taught here.
Varun K.
India
Good for those who want to understand better or get into Strategy role. For those already in Strategy can be a good reinforcement of basics.
Philip S.
United Kingdom of Great Britain and Northern Ireland
A fantastic primer to strategy for newbies and great refresher for those that work with strategists and want to know more
Denisa I.
Romania
Really helped me get a clear picture of a strategist day to day life: point of focus, how to organise and where you can find the informations.
Rory L.
United Kingdom of Great Britain and Northern Ireland
I hope you like acronyms.
Robert T.
Slovakia
Great and complex, few very good and shareable thoughts.
Frank M.
Uganda
I found the course very insightful and I would highly recommend it to anyone and everyone who is interested in becoming a better Strategist.
dan s.
United Kingdom of Great Britain and Northern Ireland
-
Heba B.
Egypt
Incredible learning.. an eye opener for alot of givens
Zolzaya E.
Mongolia
Totally satisfied with the overall course and very rich contents and case studies
Christos L.
Greece
Simple and unique. Love 42courses!
Suvid S.
India
Hint of details worth separate courses, excellent for budding marketeers
Mitchelle D.
Nigeria
I saw Marketing Strategy through a simple, engaging and interesting learning experience on how to reach prospective consumers and turn them into customers of our products or services.
Gabriel B.
Colombia
I like this a lot
Viktor S.
Ukraine
This course helps you think globally
Claudia S.
Italy
It's an helpful course which describes the most important point for building a relevant marketing strategy.
Ife T.
Nigeria
Introduces you to the essentials of marketing strategy. Strongly recommend
Armin H.
Germany
A treasure chamberfull of learnings, insights and inspiration. I end every session full of energy.
zin P.
Myanmar
Strategy must to know every marketer.
Nyi M.
Myanmar
Very insightful
Selin T.
Turkey
I've had so much fun learning from this course! A big thank you to the team behind it.
Karina S.
Germany
Great refresher on the essentials of a profound marketing strategy. MUST for all marketeers who seek for strategic advice. Great case studies and examples that truly inspire.
Georgios K.
Greece
A modern way of learning. I enjoyed it. Various resources and to the point. I liked the fact that I can see others people replies under the questions. Its very inspiring and interactive.
Bálint S.
Hungary
Great overview of the Strategic Planner role and tons of great articles.
Dylan G.
United Kingdom of Great Britain and Northern Ireland
Well written lessons and great insights from industry experts. Would recommend!
Nizar W.
Kuwait
A brillaint course, packed with information, isnight, and knowledge, I never thought I would say this but this is course I would re-take again.
Valerio C.
Italy
Every Marketers must start with this course
Anastasia E.
United Kingdom of Great Britain and Northern Ireland
Great, easy to follow format + a lot of supporting materials. Love the videos and case studies.
Hamza R.
India
The course was very insightful and engaging. Not something to be rushed through and in a hurry. Lots on concepts to soak in and register.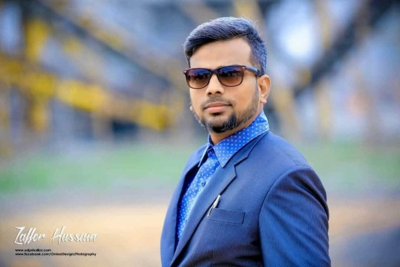 Zaffer M.
India
courses on this platform don't require a review, all the courses presented here offers great value.
antal b.
Netherlands
this course will get you thinking about the real value of strategic thinking and why its so important.
Anahit V.
Armenia
Case Studies are great in this course.
Louise W.
Ireland
Extensive, practical and helpful in any line of business. Assists in focused and directed thinking
Khant H.
Myanmar
This course is a great one for every strategist out there- with a lot of insightful case studies from international brands.
Iyanuoluwa A.
Nigeria
Incredibly grateful to the exposure I had from taking this course. Enlightened on the process and approach to deploy an effective marketing strategy
Matt P.
United Kingdom of Great Britain and Northern Ireland
Really enjoyed this course. Should be treated as fundamental learning for all marketeers. Again the case studies were incredible.
Antonella Z.
Italy
a mix of basic and more advanced concepts, not well coordinated
Adam D.
Poland
An eye opeining experience. Highly recommended.
Tunde O.
Nigeria
Marketing strategy simpliflified
Marti D.
Spain
Excellent refresh to strategy.
Raphael T.
France
Really remarkable, I learn a huge amount of things in a truly short time !
Asli M.
United Arab Emirates
It was an amazing refreshing for me! Great case studies and entertaining examples.
Cynthia V.
France
Clear, fresh, funny and direct learnings from the best. Independently of your role, this course provides you keyy take aways and best in class case studies to improve and continue improving in your marketing strategies.
Blake B.
United States of America
Not a bad course, but also not the best course 42 has to offer.
Faisal A.
Saudi Arabia
this course really helped me to be more strategic
Alejandro L.
Argentina
It was a great course of marketing
Kristina K.
South Africa
An ideal course to brush up your 'strategy' potential. Besides plentiful of the best-case studies, the course aims to broaden your horizons in an interesting and engaging manner.
Dario C.
Italy
A very good introduction to Marketing Strategy, with great tips and case studies
Shreekant P.
India
Fabulous Course
Daniel M.
Colombia
It´s an excellent resource of knowledge for anyone who wants to work as a planner / strategist. The cases and the articles provided by WARC are a wonderful complement to the ideas presented in the class. And the best is that you´re learning from the leaders of our industry, which is something you won´t experience anywhere else.
Nikhil G.
India
It is a great course. Very interactive and engaging. I have truly learned things by taking this course. However, just like a warrior is insignificant without a platform to showcase his skills, similarly what good is a course if it doesn't directly give way to better opportunities. It would have been great if the course came with if not a promise then at least a window to related job opportunities.
Neil C.
Singapore
Value packed. Definitely worth it, goes through everything you need for strategic thinking and creative marketing planning.
Jan-Nico C.
South Africa
It's an area which is immensely important, but of which I did not know a lot. I'm feeling more empowered now that I understand the process.
Noel G.
India
A comprehensive syllabus! Great resource!
Brian D.
Ireland
The course is so concise but engaging throughout. The gamification element to the questions makes it more engaging. Lots of great case studies and real life examples
Ben R.
United Kingdom of Great Britain and Northern Ireland
A succinct, highly engaging and interesting course that gets you thinking without having to be too time consuming
Mary O.
Nigeria
The case studies really helped in practicalizing the course.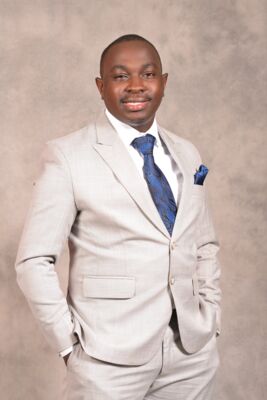 Brian A.
Kenya
Really insightful to hear from industry leaders
Natasha M.
North Macedonia
А wonderful educative journey through the field of marketing strategy with interesting and important elements and points in order to more in-depth analysis of the marketing strategy as well as a clear view of the big picture when making a marketing strategy for a certain brand.
Yasser O.
United Arab Emirates
Being in marketing but from the production side of the business, I learned a lot. The information was detailed but not overwhelming. Interesting and fun. What was quite interesting is that I started to pay attention to the strategy section in the brief that I got, look at them objectively and make a more qualified opinion of the strength and weaknesses of the strategy and practice and develop my own strategy skills.
Grit W.
Switzerland
Great insights and lots of additional good reads.
Thiruveedhula S.
India
One of the best courses I have ever taken up so far. With lots of insights and expert driven curriculum. It is must for all marketing strategist. Awesome!!
Nick B.
South Africa
With all the 'quick' content that is flying around these days, a well thought out and resource-heavy course, such as this, is an extremely rare thing. It is definitely a course I'll be referring back to for a long time coming.
Soe S.
Peru
Great course, excellent case examples and readings.
Leo F.
Argentina
Great content.
Andreas P.
Greece
A great course with great examples ! Some questions are tricky and other interesting. I higlhy recommend it !
Siluvai A.
India
It's an interesting and knowledge gaining course. This will give a startup for Marketing Strategists to move towards a discipline
Heidi S.
United Kingdom of Great Britain and Northern Ireland
I don't work in advertising or marketing but I am building an online business for which marketing strategy skills are critical to my success. I liked very much the module on measuring success, particularly the case studies.
Paul H.
Austria
You`ll learn more than you think is normal for an online course. Loved the case studies
Mathew C.
Ireland
It's a good course as it's exactly what it says on the tin.
Toyin A.
Nigeria
A great and an eye opener of a course!
Olanike L.
Nigeria
Helps me to realize the future of strategy lies in data
Milo P.
United Kingdom of Great Britain and Northern Ireland
Very concise, comprehensible and digestible.
Karla B.
Puerto Rico
A good course for creatives, not for strategists.
Omokolapo O.
Nigeria
Marketing Strategy from CANNES is simply amazing.
Vaquas A.
United Arab Emirates
This is a masterclass and a great learning experience on how to strategise
Irina M.
United Kingdom of Great Britain and Northern Ireland
The platform is really great, from the way the content is filtered and structured to design and presentation aspects. High quality learning experience!
Anchalee H.
Thailand
It's hard some chapter but that's ok.
Chad P.
United States of America
Learned a ton , gets your mind in the right place.
Emily W.
Myanmar
It's a strategy holy grail course. No regret. Guaranteed.
Emily B.
United States of America
So many great insights and tools
Jade H.
Australia
My first course on here and not disappointed, great insights, easy to use platform and really interesting case studies and additional resources. Highly recommend!
Sam R.
United Kingdom of Great Britain and Northern Ireland
Really great course with lots of brilliant examples and things to think about. Most importantly, the course is current and uses real examples which makes for a rich and relevant learning experience.
Janet C.
Australia
Your brand can only be as good as your strategy so great course to help set the direction for your brand
E E.
United Arab Emirates
Great course to take
Damilola W.
Nigeria
It was a great learning experience. The classes were succinct and engaging. The style of delivery is also deliberate, making it easy to follow through till the end. Learnt a lot
Peter D.
United Kingdom of Great Britain and Northern Ireland
Excellent course covering the key elements of marketing strategy. Taught in the usual 42 courses style - interactive, fun and informative.
Angelica F.
United Arab Emirates
The course is heavily focused on teaching rather than pressuring you on complicated assessments. Plus the case studies presented can give you a lot of inspiration.
Kirsten M.
Singapore
The course is quite useful but please read the quiz questions carefully. Sometimes they are tricky.
Stuart M.
United Kingdom of Great Britain and Northern Ireland
Superb. In-depth, easy to understand, and delivered by people who have been there, done it, bought the T-shirt, and then redesigned it. This is a must for anyone working in or on the fringes of marketing.
Judy K.
United Arab Emirates
very informative with great supportive case studies
Haris T.
Germany
Its the best course I ever have participated regarding marketing strategy
Phil L.
United Kingdom of Great Britain and Northern Ireland
Very concise and informative overview on what it takes to be a marketing strategist. The case studies and further reading are fascinating, and gave a great insight into how great brands operate.
Remilekun D.
Nigeria
The entire module was KISS ( Keep It Simple). Very insightful. I will definitely treat brands from a different perspective.
Elizabeth G.
United States of America
The course is incredibly informative and up-to-date with what we're currently seeing in 2020. It does a great job of identifying long-term strategy/brand building, breaking down the roles and responsibilities of a comms/media planner, and so much more. I strongly encourage anyone looking to become a strategist or just build up that knowledge to take this course.
Oyeronke G.
Nigeria
Quite an interesting experience...The way topics were explained were rather simple and to the point.
Isabella I.
Canada
Great introductory course for someone just starting, but also a good foundational refresher.
Mona H.
Italy
Loved it, very clear and enjoyable course. Each level explains clearly the topic and shows some helpful materials and cases to better understand.
Sherif A.
Nigeria
This is Marketing Strategy made simple. It is so easy to learn that it will make you feel like a professional in no time. The examples are actually very relevant.
Sean B.
South Africa
Great course, which was short and punchy and really fun to work through. I really enjoyed the case studies which were extremely relevant and provided a huge amount of value.
Simon A.
United Kingdom of Great Britain and Northern Ireland
Great course, succinct, clear and totally actionable!
Sherman S.
Canada
This course was great, it covers a lot of essential things. I recommend this course is you want to brush on your skills or just starting out.